Chicken Spinach Artichoke Soup
Chicken Spinach Artichoke Soup
This Spinach Artichoke Soup Is Comfort In A Bowl
Love spinach and artichoke dip? Then you're gonna FREAK for this soup. If you'd like to make it a little heartier, throw in some dry pasta after you add the shredded chicken back into the soup, then boil 8 minutes more before stirring in your spinach.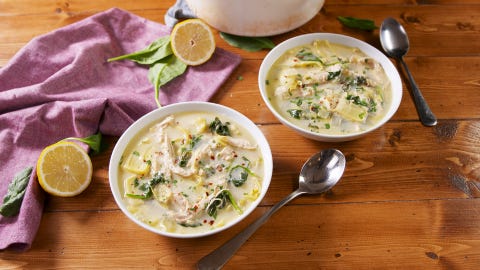 BRAD HOLLAND
by LENA ABRAHAMOCT
by Delish US
YIELDS: 6 SERVINGS
PREP TIME :0 HOURS 10 MINS
TOTAL TIME: 0 HOURS 30 MINS
INGREDIENTS
1 tbsp. extra-virgin olive oil
1/2 yellow onion, chopped
2 celery stalks, chopped
3 cloves garlic, minced
1/2 tsp. red pepper flakes
Kosher salt
Freshly ground black pepper
6 c. Chicken broth
Juice of 1/2 lemon
1 1/4 lb. boneless skinless chicken breasts (about 3 large breasts)
1 (14-oz) can artichoke hearts, drained and quartered
1 c. Shredded mozzarella
1 c. Freshly grated parmesan, plus more for garnish
2 tbsp. heavy cream (optional)
4 c. Fresh spinach
2 tbsp. freshly chopped parsley, for garnish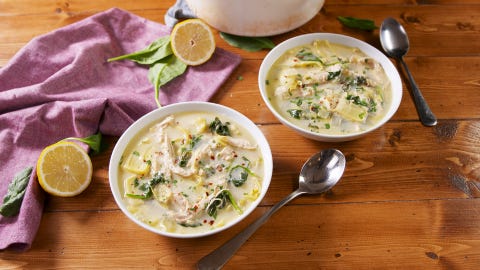 DIRECTIONS
In a large pot over medium heat, heat oil. Add onion and celery and cook until soft, 6 minutes. Add garlic and red pepper flakes if using and cook until fragrant, one minute more.
Add chicken broth and lemon juice and bring to a boil. Add chicken breasts and lower heat. Let simmer until chicken is cooked through, 10 to 12 minutes.
Remove chicken from pot and shred with two forks. Return chicken top pot, then add artichoke hearts, mozzarella, parmesan, and cream if using. Cook, stirring occasionally, until cheeses are melted. Stir in spinach and serve garnished with parsley and more parmesan.
full recipe: