CRANBERRY ORANGE SCONES
CRANBERRY ORANGE SCONES
THESE CRANBERRY ORANGE SCONES ARE BUTTERY, TENDER AND FLAKY WITH A CREAMY ORANGE GLAZE, AND THEY ARE THE PERFECT BREAKFAST FOR CHRISTMAS MORNING!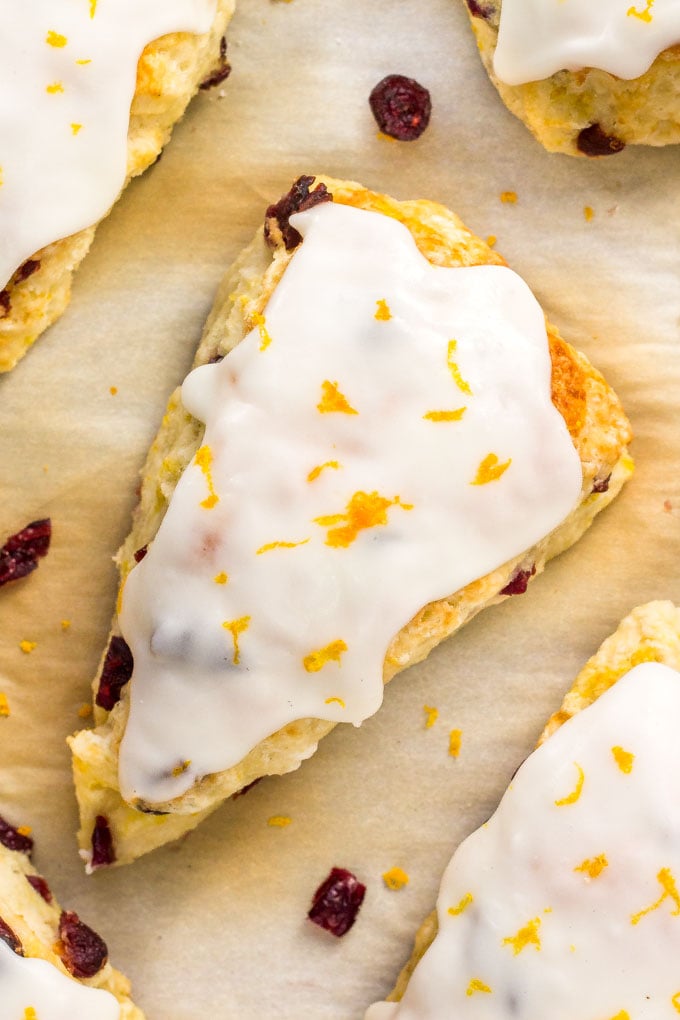 CRANBERRY ORANGE SCONES
PREP 20 mins
COOK 15 mins
TOTAL 35 mins
YIELD 8 scones
INGREDIENTS
3 1/4 cups flour
1/2 teaspoon salt
1/4 sugar
2 tablespoons baking powder
1 stick of butter, cubed
2 eggs
1 cup buttermilk [or mix 1 cup milk + 2 tablespoons vinegar or lemon]
1 cup dried cranberries
zest of 1 orange, divided
Glaze:
1/2 stick of butter, melted
2 cups of powdered sugar
zest of 1/2 an orange
teaspoon of milk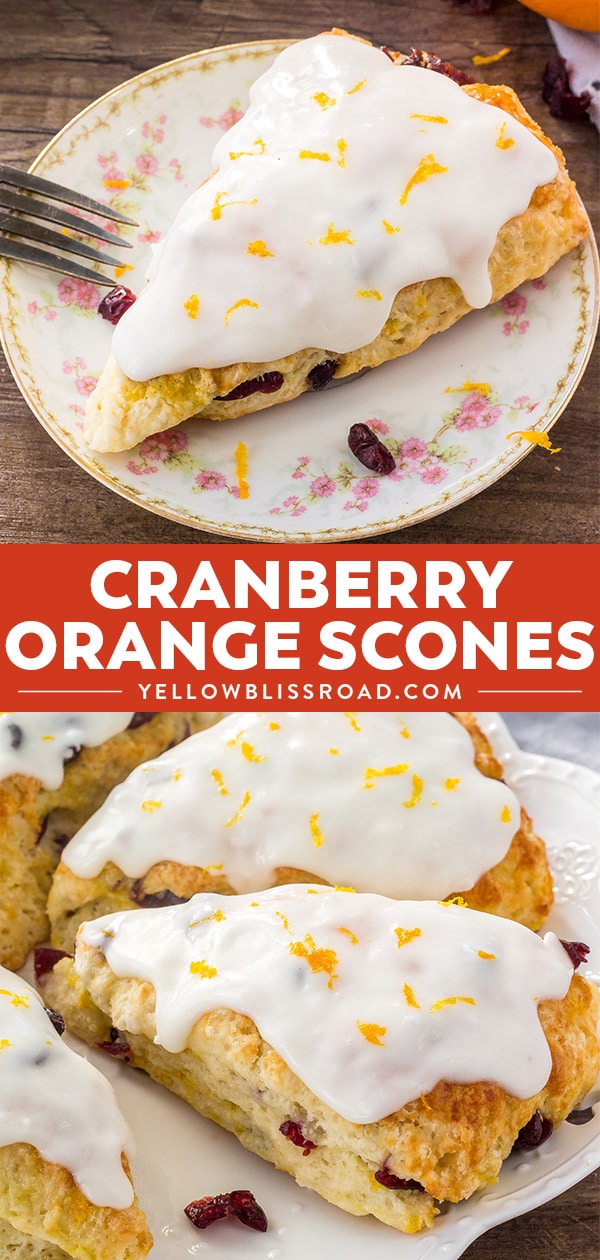 INSTRUCTIONS
Preheat your oven to 350.
Mix together the flour, salt, sugar and baking powder.
Work the cubed butter into the flour mixture, until pea sized.
In another bowl, whisk together one egg + one egg white and the buttermilk. [Save the yolk for later]
Fold the dry ingredients into the wet ingredients with a rubber spatula.
Add the cranberries and half or your orange zest. [Your dough should be lumpy]
Place the dough on a flour surface and shape it into a ball.
Press down on the ball to make the dough about 5/8 inch thick circle.
Using a pizza cutter, cut the dough into 8 triangles.
Brush the tops of the dough with the wash and place them in oven.
Bake for 15-18 minutes or until the tops are golden brown.
While they are cooling mix together the butter, powdered sugar and the remaining orange zest. If glaze is too thick - add in a teaspoon of milk at a time until you reach your desired consistency.
Frost the tops once they are cool and enjoy!