BEEF AND CABBAGE STIR FRY
BEEF AND CABBAGE STIR FRY
If you're one that struggles to work vegetables into your diet (isn't that pretty much all of us?) you're going to love this Beef and Cabbage Stir Fry. It's full of vegetables and absolutely addictive. And the best part? It uses vegetables that are super inexpensive so you can know that you're doing your body and your wallet good. Winning!
This Beef and Cabbage Stir Fry goes great with: Easy Egg Drop Soup, Thai Cucumber Salad, Savory Coconut Rice, Pork Gyoza
BEEF AND CABBAGE STIR FRY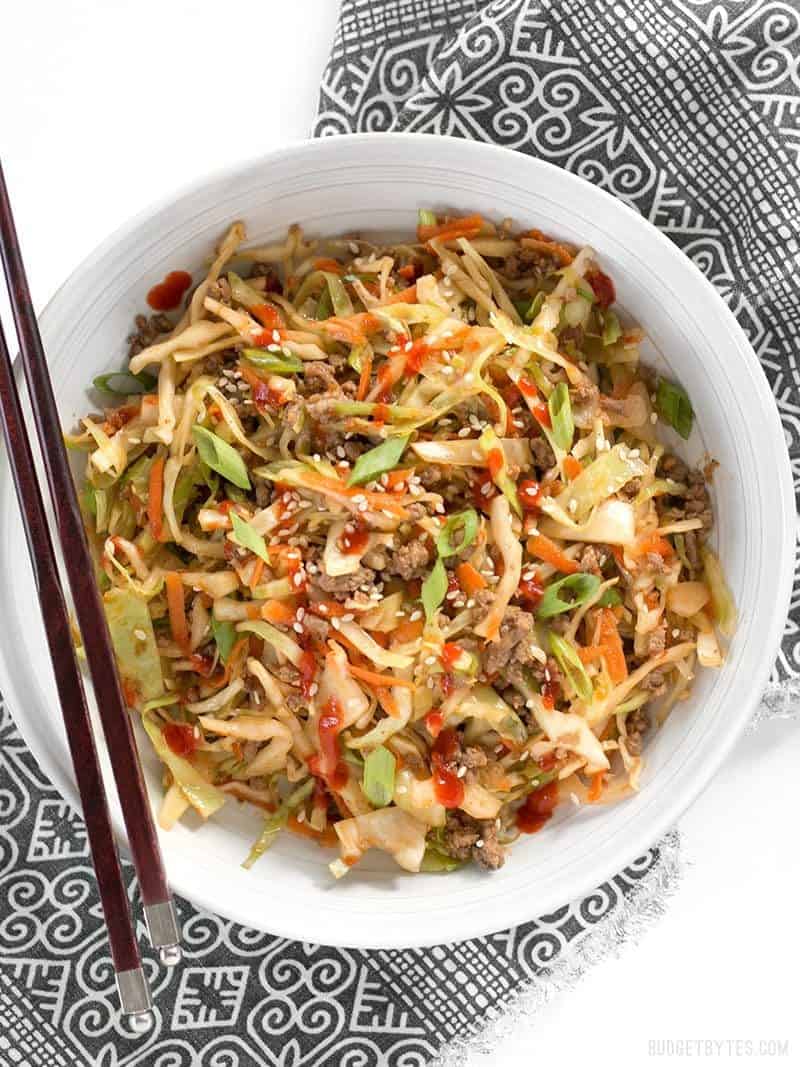 BEEF ALTERNATIVES:
I happened have a half pound of beef in my freezer leftover from my Baked Beef and Black Bean Tacos, so I used that as the meat component for the stir fry. Honestly, I think pork or even ground turkey would work just as well or better, and will most likely be less expensive than beef. You can use a whole pound of meat if you like extra protein, but I found that the half pound I had gave me just the right ratio of meat to cabbage.
VEGETABLE OPTIONS:
I also added some shredded carrot and sliced green onion for color. There are so many other fun things you can put in your beef and cabbage stir fry, though, like sliced mushrooms, thinly sliced red bell pepper, water chestnuts, or even some snow peas. But hey, I like to keep it simple and even in this very basic form I would have to say that, yes, this stir fry is addictive!
MAKE IT EVEN FASTER!
You can totally take a short cut here and buy a bag of pre-shredded coleslaw mix to replace the 1/2 head of green cabbage and carrots listed below. Sometimes that's a more economical purchase and saves you from having a half head of cabbage left over. :)
SEE THIS RECIPE IN ACTION:
BEEF AND CABBAGE STIR FRY
This fast and easy Beef and Cabbage Stir Fry is a filling low carb dinner with big flavor and endless possibilities for customization.
TOTAL COST: $7.14 recipe / $1.79 serving
AUTHOR: Adapted from Tasteaholics
PREP TIME: 15 mins
COOK TIME: 15 mins
TOTAL TIME: 30 mins
SERVINGS: (1.5 cups each)
INGREDIENTS
STIR FRY SAUCE
2 Tbsp soy sauce ($0.18)
1 Tbsp toasted sesame oil ($0.33)
1 Tbsp sriracha* ( $0.05)
1/2 Tbsp brown sugar ( $0.02)
STIR FRY
1/2 head green cabbage ($1.78)
2 carrots ($0.22)
3 green onions ($0.17)
1/2 Tbsp neutral cooking oil ($0.02)
1/2 lb. lean ground beef ($3.90)
2 cloves garlic ($0.16)
1 Tbsp fresh grated ginger ( $0.13)
Pinch of salt and pepper ($0.05)
GARNISHES (OPTIONAL)
1 Tbsp sesame seeds ($0.08)
1 Tbsp sriracha ($0.05)
INSTRUCTIONS
Prepare the stir fry sauce first. In a small bowl stir together the soy sauce, toasted sesame oil, sriracha, and brown sugar. Set the sauce aside.
Shred the vegetables so they are ready to go when you need them. Cut one small cabbage in half, remove the core, and then finely shred the leaves of one half the cabbage (4-6 cups once shredded, save the other half for another recipe). Peel two carrots, then use a cheese grater to shred them (1 cup shredded). Slice three green onions. Mince two cloves of garlic. Peel a knob of ginger using either a vegetable peeler or by scraping with the side of a spoon, then grate it using a small-holed cheese grater.
Heat a large skillet over medium heat. Once hot add the cooking oil, ground beef, garlic, ginger, and a pinch of salt and pepper. Cook the beef until browned (about five minutes).
Add the cabbage and carrots to the skillet and continue to stir and cook until the cabbage is slightly wilted (or fully wilted, if you prefer). Stir in the prepared sauce and the green onions. Top with a sprinkle of sesame seeds and a drizzle of sriracha, then serve.
VIDEO
NOTES
* 1 Tbsp sriracha makes a medium-spicy stir fry. If you don't like spicy, I'd start with 1 tsp. The sriracha adds flavor as well as heat, so I don't suggest skipping it all together.
BERITA LENGKAP DI HALAMAN BERIKUTNYA
Halaman Berikutnya